Google usually bring up their directory listing on top of search results, so it is important to take note and benefit from this free service. Google business listing alone, if done right, can send thousands of visitors to your website per week.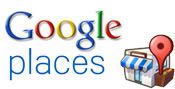 Getting Targeted Traffic from Google Place listing
Steps to take to get a first page listing
1. Visit www.google.com/places/ fill out all information and upload up to 10 pictures, it is also important to upload the required videos. In order to be indexed by Google, name your videos and pictures with preselected keywords
2. Visit www.yellowpages.com and fill out the free listing there. Google will pull your information from this directory to increase your position in searches
Go to http://www.superpages.com and fill out the form there. Just like yellow pages, it is another place to get free listing for your website.
The result will start showing up in about a month and you start getting visits from the listing